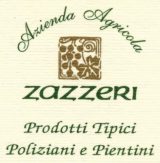 The Farmhouse
Products
Azienda Agricola Zazzeri
The Farmhouse
Via San Biagio, 6
53045 Montepulciano (Siena)
Tel. 0578 757469 - 757333 - 748528
fax e tel. 0578 758360
The Zazzeri's farmhouse is located between the lovely of Montepulciano, among vines and olives, land of ancient wines traditions.

The farm ismanaged and run by the owner Giancarlo Zazzeri who will provide extra virgin olive oil, pecorino cheese, vegetables, home made salami, aromatic herbs, jams and seasonal produces. In the last few years the farm had worked to ensure a better quality of their products, especially wines, with the creation of new cellars and the utilization of modern technictions of work, that respects the old Tuscan tradition to make wines. The total production is in house and is subject to careful selection so as to ensure a product of the highest quality.
The main activities of this company are agricultural, the cultivation of the land and the production of wine.
---
Copyright © 1996-2001 by Nautilus Multimedia Projects
Info at info@nautilus-mp.com
All rights reserved